Honey Ryder - Ursula Andress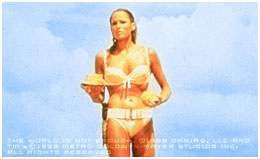 The ultimate Bond woman. Intelligent (if undeniably naïve), resourceful and courageous, Honey set the standard for the girls who would follow in her footsteps. Bond first encounters the stunning beauty on the beaches of Crab Key where she is searching for valuable shells. An orphan from an early age, Honey is self-educated and quite capable of defending herself (as evidenced by her using a black widow spider to mortally wound a rapist). Her father was a marine biologist who had died in mysterious circumstances while exploring Crab Key. Honey almost shares her father's fate when Dr. No captures her and 007. Although Honey openly flirts with Bond, it is not until the end of his extraordinary mission that they finally become lovers.
Despite having her voice dubbed for the film, Ursula Andress made such a striking appearance in Dr. No that she not only became an international star but also sent bikini sales soaring.
---
Other Women in Dr. No