Tatiana Romanova - Daniela Bianchi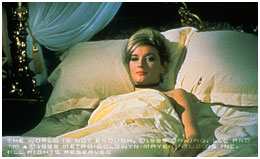 A corporal in Soviet Army Intelligence, Tatiana - assigned to the Soviet embassy in Istanbul - is used as a pawn in a murderous double-cross orchestrated by SPECTRE and Colonel Rosa Klebb. The innocent and naïve Tatiana is ordered to seduce Bond, unaware of the extent to which she is being manipulated. Indeed, Klebb has their lovemaking secretly filmed as part of a planned murder and sex scandal - a rather daring concept for a 1963 film.
Daniela Bianchi, a novice actress and former Miss Rome, gives a sincere and totally credible performance and remains one of the more memorable of the Bond women. Surprisingly, she retired from acting only a few years after her success in 'From Russia With Love'. She did, however, appear with other Bond alumni in the low-budget 007 spoof 'Operation Kid Brother' in 1967.
---
Other women in From Russia With Love
Vida and Zora, The gypsy fighting girls