6. On Her Majesty's Secret Service


Official video blurb
This is not available as I do not have this video, when I buy it this will be updated.

Official website plot synopsis
Just as James Bond finally discovers true love, he is thrown into non-stop thrills and chills in this explosively entertaining action/adventure. George Lazenby leaps into the role of Agent 007 with supreme confidence and undeniable charisma.
When Bond's usual intelligence sources fail, he enlists the aid of crime boss Draco (Gabriele Ferzetti) to track down Ernst Blofeld (Telly Savales), head of the evil SPECTRE organization. The trail leads to the mountains of Switzerland, where Bond goes undercover in Blofeld's hi-tech headquarters. He encounters a bevy of seductive women, but none more beautiful than Draco's daughter, Tracy (Diana Rigg), who wins 007 over with her fervent independence, caustic wit and love of adventure. Bond pledges his eternal devotion to her, but there are more immediate concerns: Blofeld is poised to unleash horrific germ warfare weaponry that will endanger every living thing on earth.
Artillery-laden ski pursuits, incredible stunts and even a spectacular avalanche drive this action-packed epic to a sensational climax. And in developing the romance of Bond and Tracy, On Her Majesty's Secret Service builds to the most emotionally charged finale of any film in this dynamic series.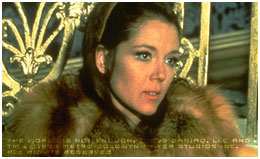 Cast
Diana Rigg as 'Tracy Di Vicenzo'
Angela Scoular as 'Ruby Bartlett'
Telly Savalas as 'Ernst Stavro Blofeld'
Ilse Steppat as 'Irma Bunt'
Yuri Borienko as 'Grunther'
Gabriele Ferzetti as 'Marc Ange Draco'
Bernard Horsfall as 'Campbell'
George Baker as 'Sir Hilary Bray'
Bernard Lee as 'M'
Lois Maxwell as 'Miss Moneypenny'
Desmond Llewelyn as 'Q'
Title song: 'On Her Majesty's Secret Service' performed by the John Barry Orchestra