3. Goldfinger


Official video blurb
'No Mr. Bond, I expect you to die'. One of the most classic lines in all of the Bond series spoken by Bond's glittering enemy Auric Goldfinger.
'Goldfinger' set the style for many upcoming Bond films with its high tech gadgetry including the famous Aston Martin DB5 (with modifications). Its budget was almost 5 times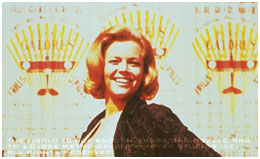 that of the original Bond film, most of which was used in the lavish sets such as the full-scale model of Fort Knox (at the time the most expensive set built by Pinewood Studios).
Auric Goldfinger is the world's top gold smuggler and James Bond has to find out why. What he discovers is a sinister plot known as Operation Grand Slam.
Goldfinger enlists the aid of Pussy Galore's female pilots and Oddjob's killer bowler hat to initiate his plan. Bond must speed into action in his custom built Aston Martin DB5 to stop the man with the deadly Midas touch.

Official website plot synopsis
From "shocking" prologue to exhilarating mid-air climax, Goldfinger is a lightning-paced James Bond adventure that pits 007 against one of his most formidable opponents. Sean Connery is Agent 007 in this fourteen-karat thriller brimming with non-stop action, humor and almost unbearable excitement.
The powerful tycoon Auric Goldfinger (Gert Frobe) has initiated "Operation Grand Slam," a cataclysmic scheme to raid Fort Knox and obliterate the world economy. James Bond, armed with his specially equipped Aston Martin (its accessory package includes built-in machine guns, a smoke screen and an ejector seat), must stop the plan by overcoming several outrageous adversaries. First there's Oddjob (Harold Sakata), the mute servant who kills at the toss of a lethal hat; next, the beautiful Jill Masterson (Shirley Eaton), who gives new meaning to the phrase "golden girl;" and finally, sexy pilot Pussy Galore (Honor Blackman), whose romantic feelings for Bond complicate her involvement in Goldfinger's high-flying scheme.
With style, wit and wildly imaginative stunt sequences, this adrenaline-charged adventure ranks as one of the all-time great action films. It's an electrifying thrill ride that will captivate viewers from beginning to end.

Cast
Honor Blackman as 'Pussy Galore'
Shirley Eaton as 'Jill Masterson'
Tania Mallet as 'Tilly Masterson'
Gert Frobe as 'Auric Goldfinger'
Harold Sakata as 'Oddjob'
Martin Benson as 'Mr. Solo'
Burt Kwouk as 'Mr. Ling'
Michael Mellinger as 'Kisch'
Alf Joint as 'Capungo'
Nadja Regin as 'Bonita'
Bernard Lee as 'M'
Lois Maxwell as 'Miss Moneypenny'
Richard Vernon as 'Colonel Smithers'
Cec Linder as 'Felix Leiter'
Desmond Llewelyn as 'Q'